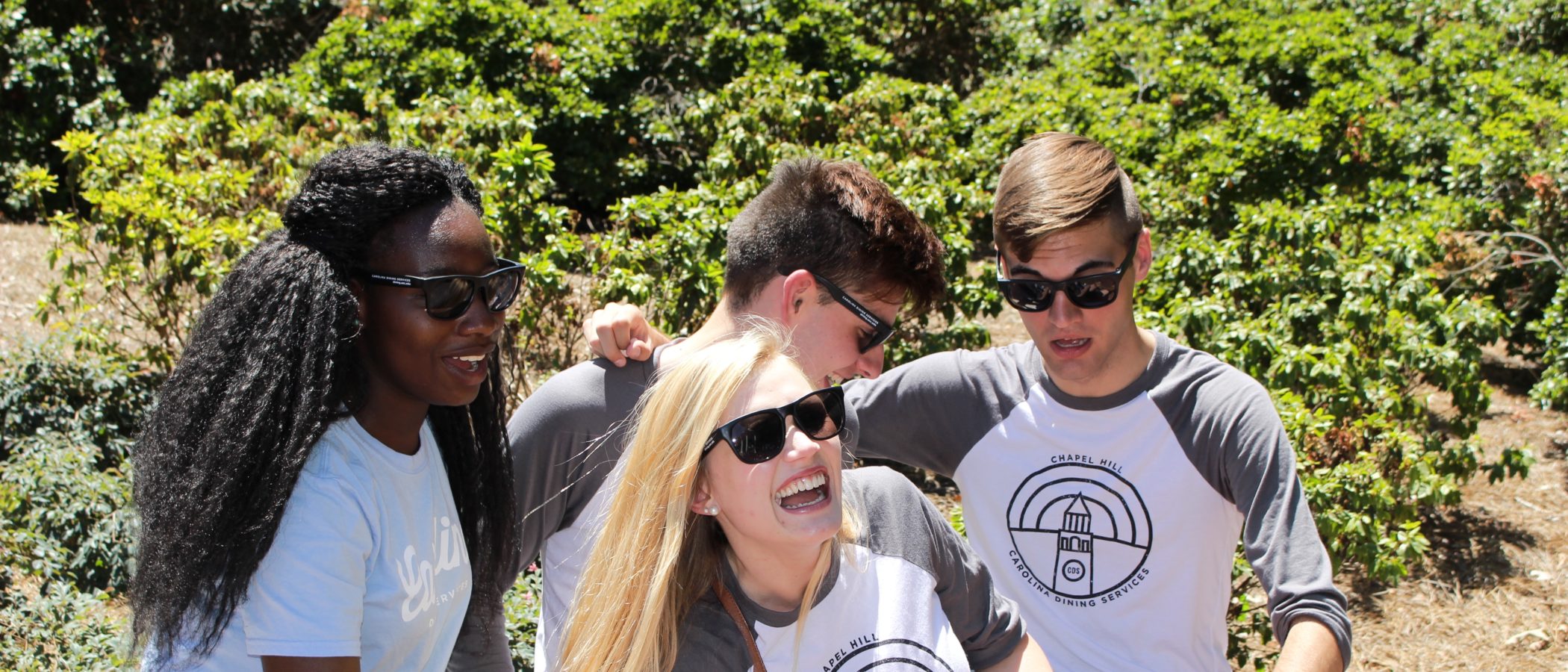 Welcome to Carolina
You've been feeding your student for years, now it's our turn! You can still stay connected with your student by submitting a family recipe, adding Dining Flex when it's running low or just send a care package to let them know you're thinking about them.
Is it your Tar Heel's birthday? Are they celebrating a big win? Just feel like something sweet? You can also send them a Love From Home cake! You dream it up, we bake it, they eat it – check it out here.
Our students deserve the best and that's what we strive for – to be recognized as one of the finest dining programs in the nation. We take pride in the fact that our program is completely voluntary! We need to earn our students' trust and are always looking for ways we can achieve excellence within our program by serving delicious food, creating an awesome environment and surrounding ourselves with intelligent and innovative people.
Our Dining Halls
Located in the heart of campus, students may take advantage of our two main dining halls. These all-you-care-to-eat locations have an array of food options from the rotisserie, grill, deli, salad bar, vegetarian station, and more, such as pizza and international selections. Students get the best value by participating in a meal plan that best meets their needs.
Our Food Courts, Coffee Shops, Snack Bars & Convenience Stores
Located at various locations around campus, we operate a variety of national brands and regional favorites offering soups, salads, burgers, sushi, sandwiches, coffee, bagels and more! Students may also dash into one of the on-campus markets or one of five snack bars for grab-n-go sandwiches, salads, sweet and salty snacks, drinks and all residence hall staples!
For convenience, the university offers declining balance accounts through the UNC One Card for students to utilize at these locations. Meal Plan holders can supplement their meal swipes by utilizing Dining Flex to give them more flexibility on campus.
Our Culinary Team
We have a whole team led by our Executive Chef who just so happens to be a proud alumnus of the Culinary Institute of America – kind of like UNC, but for chefs. He is not the only accomplished member of our Culinary Team; Chef leads a team of classically trained chefs who have many years of combined culinary experience.
Our Menus
We have standards for every meal period that include lean and complete proteins, whole grains, and entrees and sides made without gluten. We expand these standards for lunch and dinner to include vegetarian pizza, soup options and an entire station completely developed by our Registered Dietitian, highlighted as our RD's Pick!
You may be worried your student could get lost in our expansive menus and dining options. However, we have provided them with tools to make dining easy! Our online menus and digital screens throughout the dining hall feature complete nutritional content and allergen information. We also offer a nutrition filter so students can find the options they need.
Our Dietitian
We have a Registered Dietitian on staff to make sure your student is getting the dietary advice and nutritional information they need. Find out more about our health and wellness practices, our guide to dealing with allergens and other special dietary needs, what to do if your student is vegan or vegetarian, or contact our RD directly.
Our Sustainable Practices
We understand that campus dining programs have a considerable impact on many resources and strive to reduce our impact through various initiatives. Be sure to tell your student to keep a look out for our local partnerships, farmers and static sustainable food offerings that include American Humane Certified chicken, organic yogurt, grass-fed beef, cage-free eggs and local pork sausage.
Our Events
It's not only about the food – students need to have some fun! We have more than 200 scheduled events and programs throughout the year developed to nourish the minds and bodies of our students. Sounds corny right? We're serious, you should check our Facebook page to see just how serious we are about fun.
Our Meal Plans
Every Meal Plan is made up of two parts that work together to create one plan your student can always rely on. Sign up now!
Meal Swipes for Dining Halls: Choose how many all-you-care-to-eat meals for breakfast, lunch, dinner and late night. Select a weekly, semester or an all access plan to use at either dining hall.
Dining Flex for Everything Else: Choose how many additional dollars, if any, to add for the semester. Dining Flex supplements meal swipes and can be used at all CDS locations and online delivery. Depending on the financial aid package, apply money awarded to a Meal Plan, including the Dining Flex account.
The cost of a meal plan will be deferred to your student's account and sent with the tuition bill. Once your student has a Meal Plan, their student ID works like a debit card. Just swipe the card and the meal is deducted from the meal plan swipe account. For more information see Meal Plan Policies and Frequently Asked Questions.
Your Questions
Still unsure about which Meal Plan is best for your student or just have some general questions? Send us an email, give us a call at 1.800.UNC.MEAL or, for the savvy socialite, ask us on Facebook or Twitter.
Helpful Tips
Additional Resources