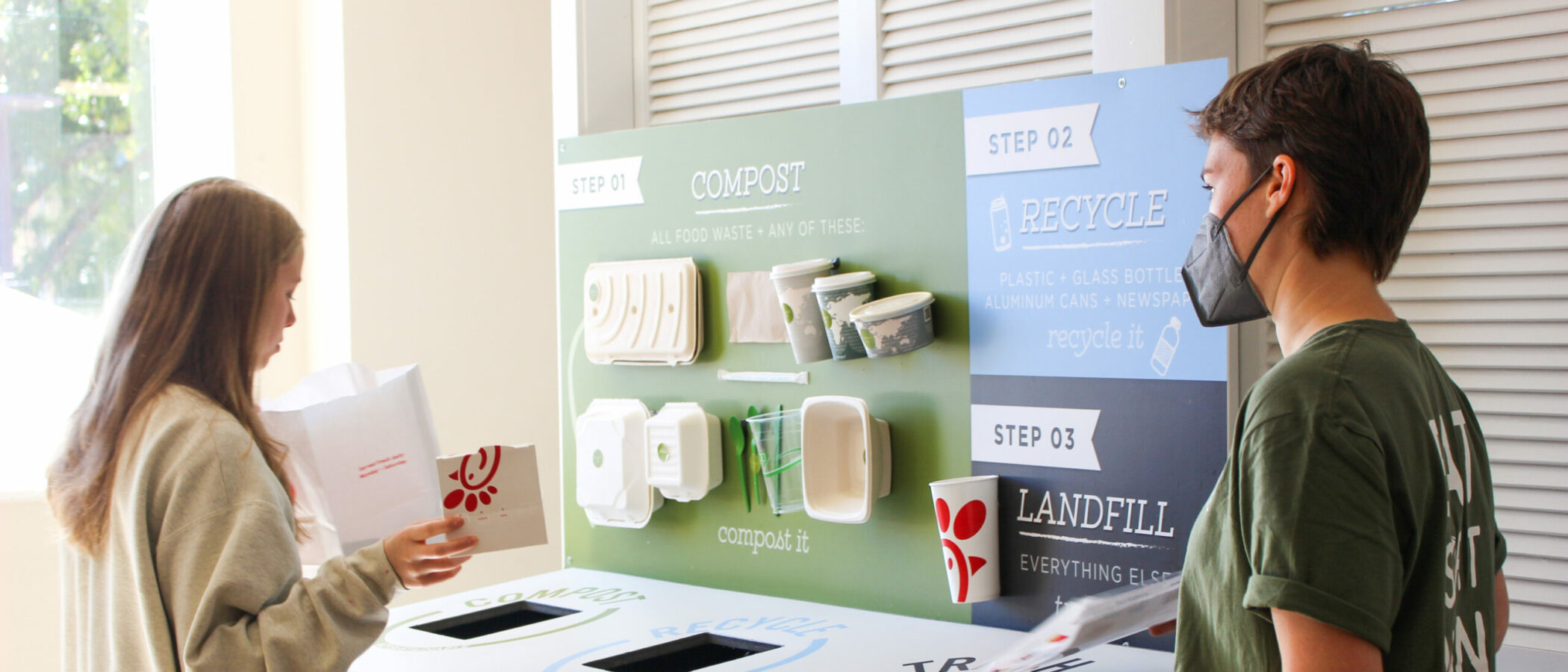 ---
We recognize the massive amount of discarded material produced by the food industry every day, and are committed to finding new ways to divert waste from landfills by reducing and reusing materials whenever possible. Read below to learn about our waste diversion efforts, and how you can help out!
---
Waste Prevention
Reusable to-go containers in the dining halls have entirely eliminated the use of disposable containers for take-out meals.  
Beverage discounts in select locations for reusable cups & mugs. Our Choose 2 Reuse campaign was awarded a 2020 NACUFS Gold Award for Educational Outreach in Sustainability! 
Employ a Food Waste Management System to identify and eliminate wasteful procedures, and track food production to better forecast future purchasing. 
Utilize digital screens for menus and advertisements to reduce use of printed menus and paper signage.  
Purchase bulk dispensers to reduce packaging, e.g. beverages, condiments, cereals. 
Waste Diversion:
Offer metal, glass and plastic recycling bins in all dining locations and paper recycling bins in offices.  
Recycle cardboard boxes from food deliveries at all locations. 
Compostable napkins and compostable straws in all locations.  
Front of house composting system, compostable packaging, utensils and cups available in the Student Union, lobby of Chase Hall, and in Mainstreet and Beach Café, two of our main food courts. 
Pre-consumer food waste composting at the Beach Café and Mainstreet and pre- and post-consumer food waste composting in both dining halls 
Front of house composting and recycling audits are conducted monthly to identify common contaminants in the waste streams. 
Food Waste Reduction & Recovery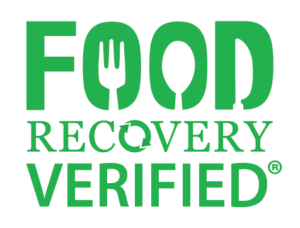 We are now a Food Recovery Verified university!
In the United States, food waste and loss accounts for 30-40% of the food supply, and 18% of total methane emissions from the landfills. We employ a number of strategies to divert food waste, including source reduction efforts, surplus food donations, oil recycling, and pre- and post-consumer composting. Read more about our food recovery efforts here.
What You Can Do:
Take a lap around the dining halls or check our online menu to see what dishes are available before filling your plate. You can always go back for more!
Pick Your Portion: Let our servers know if you want a half, standard, or double portion of a menu item to reduce food waste.
Bring a reusable water bottle, cup, utensil kit, and/or straw when eating on campus to divert single use products from the landfill. Read below for information on our reusable drink discounts and to-go container program!
Compost and recycle whenever possible; front-of-house compost and recycling bins are available in Chase, Lenoir Mainstreet, and the Student Union. If you aren't sure if something is compostable or recyclable, put it in the landfill to avoid contaminating the waste streams. When in doubt, throw it out!
---