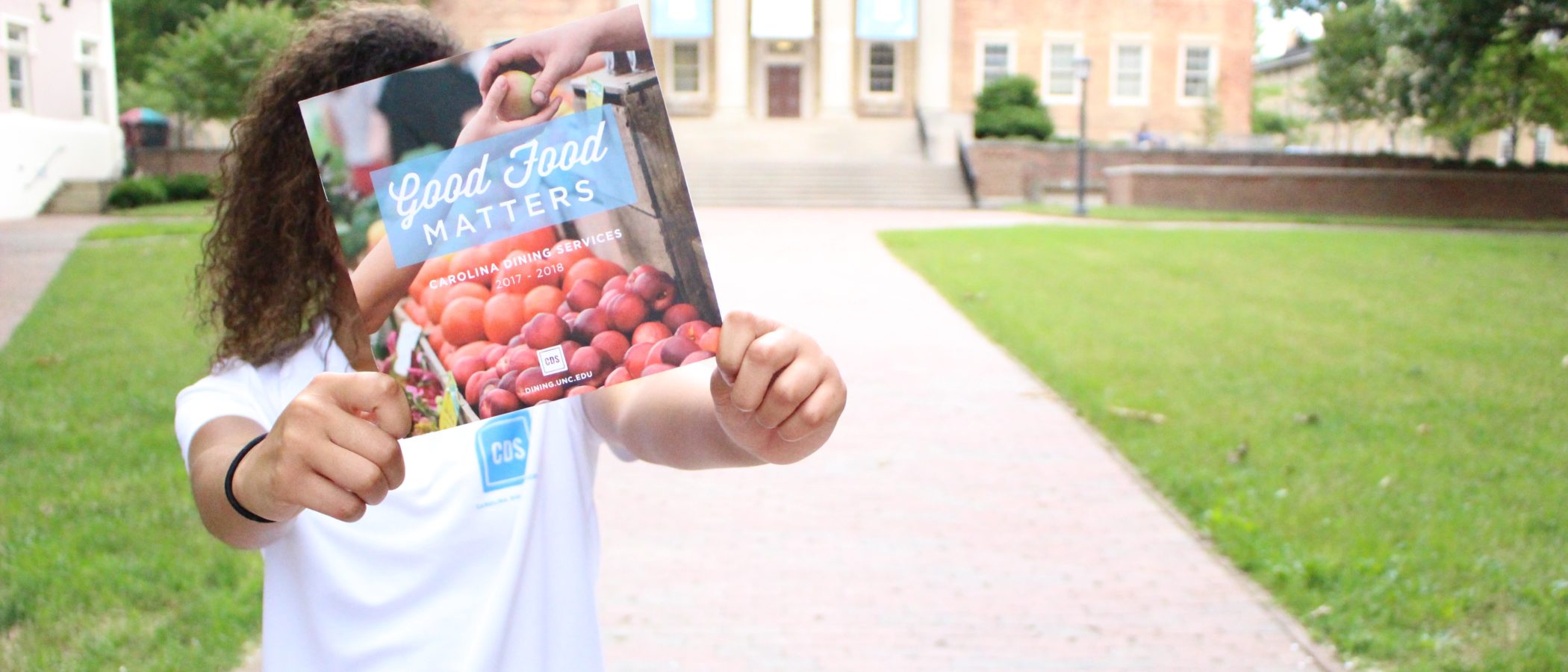 Check Out Our Meal Plans
Tar Heels, Let's Eat!
You want the best? You got the best! With the Unlimited Plan, you can eat as often as you like in both our all-you-care-to-eat dining halls, Chase and Top of Lenoir. From early morning to late night, from quick snacks to long lunches, our Unlimited Plan allows you to come and go in the dining halls as you please – just like your kitchen at home! The Unlimited Plan also comes with 35 PLUS Swipes, which you can use at a variety of on-campus retail locations throughout the semester. You also get 5 Guest Meals to share a meal at Top of Lenoir or Chase with your friends!
Want to customize a number of swipes you've got? No problem! With our Block Plans, you can choose a number of swipes that works best for you, depending on how often you like to eat in the dining halls. No matter which Block Plan you get, 35 of your allotted swipes are PLUS Swipes, which means you can use them to eat select combos at retail locations across campus! And with Block Plans, sharing is caring – you can treat your friends to a Meal as long as you've got swipes left to share!
Block 200 – $1,974

Block 160 – $1,744

Block 120 – $1,388.40

Block 100 + $200 Dining Flex – $1,378
Price per semester, tax included. Unused meals at the end of the semester do not carry over to the next semester. Dining Flex can be added to any Meal Plan when signing up and during the semester. Unused Dining Flex will carry over to the next semester if you remain enrolled at UNC.
---
Welcome Tar Heels – Let's Eat!
Each of our Residential Meal Plans offers something different, so no matter who you are or how you eat, you can find a Meal Plan that works best for your schedule and lifestyle. Our Residential Meal Plans are annual, fall-to-spring contracts, which means you'll pay half in the fall semester and then you'll automatically be billed for the spring semester portion of your plan. The plan you picked in the fall didn't quite fit? Don't worry, you can switch plans between semesters, free of charge.
MEAL PLANS
Select from one of our Unlimited or Block Meal Plans to use at either of our two all-you-care-to-eat dining halls. Once you have a Meal Plan, your student ID works like a debit card. Just swipe your card at the entrance and the meal is deducted from your Meal Plan account.
PLUS SWIPES
All of our Meal Plans now come with PLUS swipes to give you maximum flexibility and variety in your campus dining experience! 35 of your allotted meal swipes can be used as PLUS swipes in any of our on-campus retail food courts. Click here to find more information about where and when you can use your PLUS swipes.
DINING FLEX
For additional dining flexibility, Dining Flex can be used at any Carolina Dining Services (CDS) location (coffee shops, retail food courts, convenience stores, even online ordering from Chapel Hill restaurants!) You must have a Meal Plan to purchase Dining Flex, which can be added to any Meal Plan in $50 increments by clicking here.
Depending on the financial aid package, you may be able to apply financial aid toward payment of your Meal Plan and Dining Flex account.
Ready to choose the best plan for you?
Check out your options below, then click here to sign up!
Note: Pricing listed is for 2017-2018 academic year.
Off Campus Meal Plans are available to students living in Granville Towers, Baity Hill and Ram Village. These plans are designed to meet the needs of off campus students while offering the advantages of dining on campus. Students pledging a fraternity or sorority may opt to change their Meal Plan to an Off Campus Meal Plan within the allocated grace period. For more information on Off Campus Meal Plans and policies, please click here.