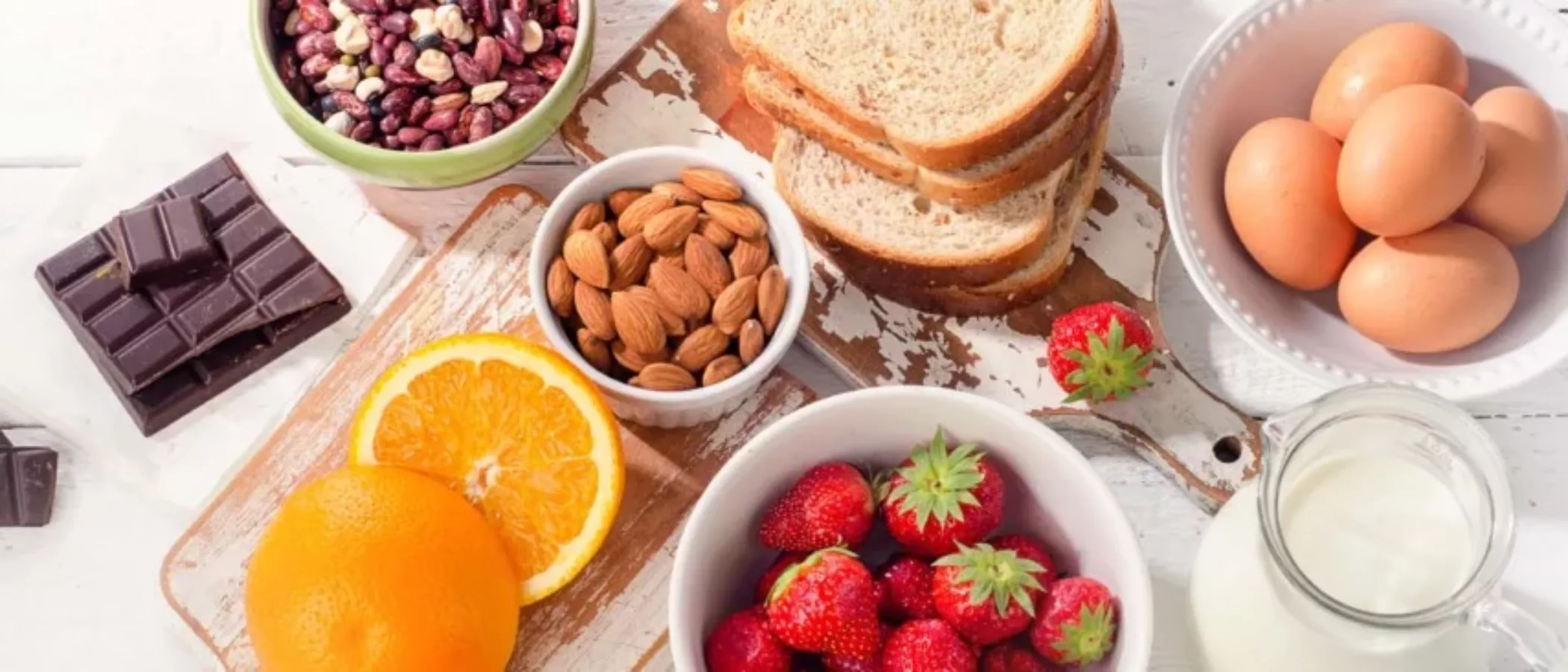 Food Allergies and Intolerances
---
We strive for transparency in all of our recipes and ingredients, which is one of the reasons we were recognized by Food Allergy Research and Education (FARE) as one of the Best Campus Dining programs for students with food allergies. In both dining halls, we identify and display the top nine allergens and flag all items made without gluten on digital screens at every station. This information is also made available online in addition to full ingredient listings and nutrition facts.
Our goal is to ensure confidence in knowing what foods you can safely eat with your specific food allergy or intolerance.
---
Allergen Guide
We have an Allergen Guide available to students who want a guide to managing their food allergies while on campus and for the rest of their lives.
---
What We Do
Simply Prepared: At Chase dining hall, our Simply Prepared station serves foods excluding the top 9 food allergens (milk, eggs, wheat, soy, fish, shellfish, tree nuts, peanuts, and sesame). Our employees, chefs, and managers are trained on identifying food allergies and minimizing the risk of cross-contact. Customers are discouraged from entering the area with food from outside the station. Special meal accommodations are available for those who cannot meet their dietary needs safely in the dining halls.
Stress Less Cabinet: The Stress Less Cabinets and Freezers in both Chase and Top of Lenoir are stocked with a variety of individually wrapped items that omit gluten, tree nuts, and peanut ingredients. We have a microwave at each dining hall dedicated to Stress Less items to reduce risk of cross-contact with gluten, tree nuts, and peanuts.
Peanuts: All peanut or peanut butter containing foods are isolated to the bakery. For this reason, students with a peanut allergy are advised to take caution with bakery items. Other areas of the dining hall exclude peanuts and peanut oil from their recipes to reduce the risk of cross-contact. 
Tree Nuts: Tree nuts may be present in select dessert items. Students with a tree nut allergy are advised to take caution with bakery items and any menu item containing coconut or coconut milk.
Milk: Non-dairy milk, cheese, dessert, and pizza are available every day. We replace butter with non-dairy margarine in all of our house-made recipes. However, manufactured items may contain butter. Students are advised to check the menu and ingredients.
Wheat and Gluten: Items marked "made without gluten" online and on digital screens omit gluten-containing ingredients from the recipe. Cereal, bread, pasta, and dessert items made without gluten are available each day. 
Soy: Our dining halls use cooking oils that contain soybeans. However, this oil is refined and does not contain the soy protein that causes allergic reactions. We consider this oil safe for students with soy allergies. 
Egg: Entrees and desserts with egg as an ingredient are occasionally on the menu. Students with egg allergies are asked to check the menus and ingredients. Take caution with deep-fried foods, which may have been fried with recycled oil originally used to fry items coated with egg.
Fish: Entrees with fish as an ingredient are occasionally on the menu. Some dishes may also contain fish sauce, Worcestershire sauce, curry paste, or Caesar dressing. Students with fish allergies are asked to check the menus and ingredients.
Shellfish: Entrees with shellfish as an ingredient are sometimes on the menu. Students with shellfish allergies are asked to check the menus and ingredients.
Sesame: Beginning January 1, 2023, sesame was added as a top 9 allergen per FDA labeling laws. Items containing sesame are flagged as an allergen on digital screens and on our online menus. We are working diligently on updating all recipes and their ingredients as manufacturers update their labels. You can view full ingredient listings on our online menu.
Due to the serious disruptions taking place in the commercial food supply chain, Aramark is experiencing an extremely high rate of product substitutions from our distributors. If you need assistance navigating the menu options available due to allergens or intolerances, please speak with the chef or food service manager on duty.
If you have any questions regarding ingredients of a particular food item, please consult with the dining manager on duty, chef, or contact our Registered Dietitian.