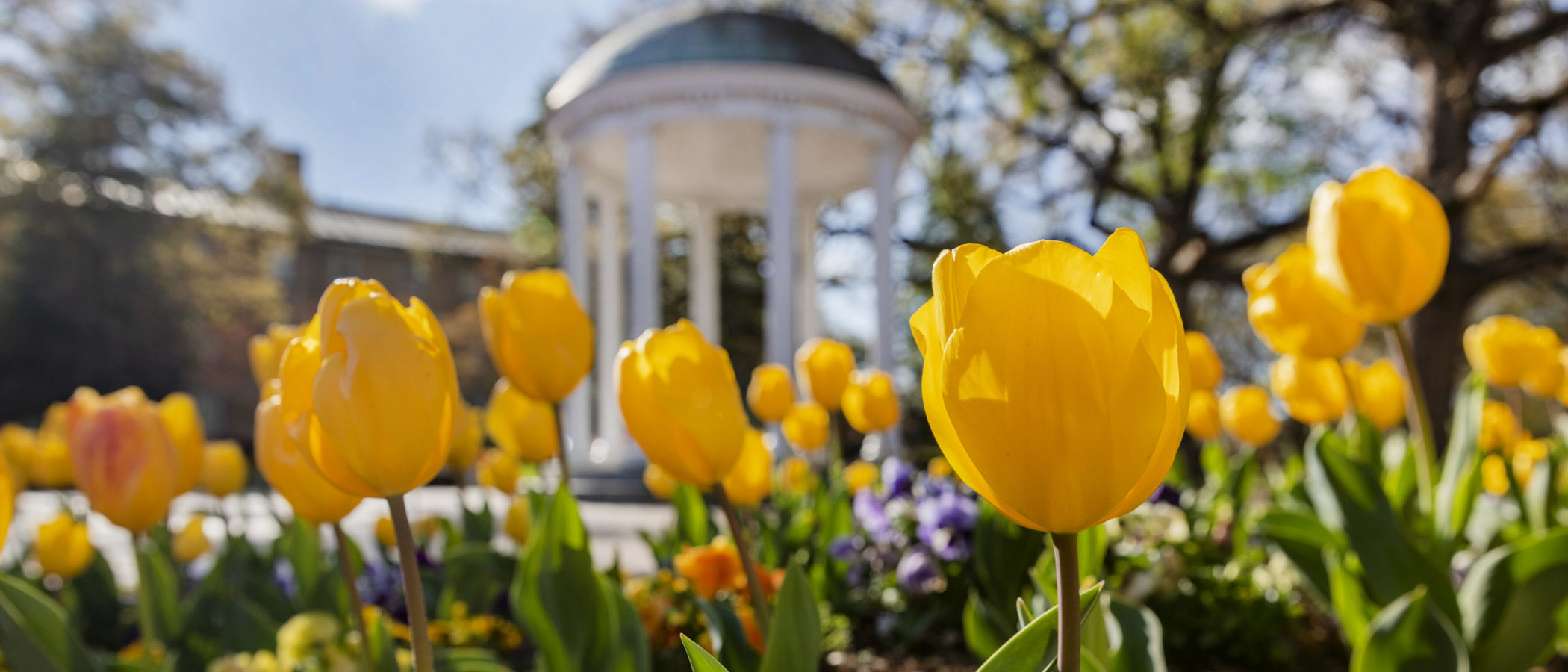 Dining FAQ
All you need to know about our safety protocols, operational changes, meal plans and what's on campus.
---
Your health, safety and peace of mind are important to us. In response to COVID-19, we have modified our dining program to better ensure you stay safe. As this situation is fluid, information is subject to change but will be updated here. Below are frequently asked questions to guide you during these operational changes.
For more information on state guidelines, read the Governor's proclamation and FAQs.
For any student needs or concerns, visit the CV19 Student Care Hub.
For a full look at the Roadmap, visit the Carolina Together website.
---
Meal Plans
Are summer meal plans available?
We do not offer meal plans during the summer due to our dining halls not being open consistently. We encourage you to add Carolina Convenience online or at the UNC One Card Office.
When can I sign up for my Fall 2021 Meal Plan?
Meal plan sales start Tuesday, June 1, 2021 and may be purchased online until Thursday, August 26.2021 *
Any student requesting a cancellation or change after Thursday, August 26, 2021 must  go to the One Card site and click on Meal Plan Appeal Form in the important information box. Meal Plan cancellations, by appeal, will result in prorated refunds to the Fall portion of the 2021-22 Meal Plan and will be credited back to the student's cashiers account based on either the date of cancellation. Meal Plan Appeals may take a few days to process.
What are your door rates?
Tar Heels can pay with Flex, Carolina Convenience, credit/debit (MasterCard/Visa) and cash at the dining halls. If you are paying with any of the listed options above, you'll be charged the door rate upon entry:
Breakfast: $9.25 + tax
Lunch/Brunch: $13.50 + tax
Dinner: $13.90 + tax
Late Night : $10.80 + tax
How do I change or cancel my meal plan?
To Cancel or Sign up for a meal plan visit https://csgold.onecard.unc.edu.
All Meal Plans that are not off-campus meal plans are annual contracts. A student may request to change or cancel their previously selected Meal Plan until August 26, 2021 (see Changes and Cancellations in our Policies). After August 26, 2021, all emergencies necessitating account changes will be handled by visiting the One Card site and clicking on Meal Plan Appeal and click on Meal Plan Appel Form in the important information box.  Meal Plan Appeals will be reviewed as prompt as possible but typically within a few days.
If the emergency results in a cancelation the student may be required to pay a $250 cancellation fee.
I'm trying to buy my meal plan but when I log in I receive a single sign-on error message. Help!
No worries, you can still buy a meal plan! You will just need to set up the University's 2-Step Duo Security in order to sign in. For more information on how to set-up, check out UNC's 2-Step Verification instructions.
Am I required to purchase a meal plan?
No, all of our meal plans are voluntary so you are not required to sign up.
I just bought my meal plan but haven't paid the bill yet. Can I still use it when my meal plan starts?
Yes! It takes roughly three days for the cashier's office to process the transaction, but as soon as you purchase a meal plan, you can start swiping away!
If I run out of Meal Swipes, can I still eat in the dining hall with a debit/credit card?
Yes! If you have a meal plan and run out of Meal Swipes, you can still eat at the dining hall. Meal plan holders can pay with Flex, Carolina Convenience, credit/debit (MasterCard/Visa) and cash. If you are paying with any of the listed options above, you'll be charged the door rate upon entry:
Breakfast: $9.25 + tax
Lunch/Brunch: $13.50 + tax
Dinner: $13.90 + tax
Late Night : $10.80 + tax
If I don't have a meal plan am I still eligible for financial aid to cover meals?
You will still have a budgeted amount of $5,004 for meals in your cost of attendance budget that is used to determine your aid eligibility regardless of enrolling in a meal plan. To calculate how much of your meal expense is covered by your financial aid, we recommend using the OSSA Budgeting Calculator.
Where can I use my PLUS Swipes?
PLUS Swipes will still be available at all of the normal locations on campus. We have a comprehensive list of which locations accept PLUS Swipes and which combos are being served! 
Where can I use my Flex?
Meal plan holders can use Flex at any of the Carolina Dining Services locations on campus as well as for Good Uncle, food trucks, Domino's Pizza, Brenz Pizza, Wings Over Chapel Hill and Takeout Central! Learn more about delivery options here!
How do I use my meal plan? I'm still confused about Meal Swipes, Flex and PLUS Swipes.
Don't worry! We've put together an in-depth overview about the different components of your meal plan and how to use each one on campus. Learn more about how to use your meal plan and if you still have questions we haven't covered, we're always available via our contact form.
In addition to the dining halls, where else can I eat on campus?
We have many options including Good Uncle, food trucks, Carolina Dining Delivery, and pick up via the GET App!  You can still use your Flex to order food from Takeout Central, Domino's Pizza, Papa John's, Brenz Pizza and Wings Over Chapel Hill. Check out our delivery page for more information on participating locations.  
Good Uncle: Delivery of delicious meals via their app to specific touchpoints on–campus. Download the app to check out what meals they have to offer that day!  Flex and Carolina Convenience is accepted as a form of payment! 
Food Trucks: We are setting up food trucks around campus and select trucks will now accept Flex (along with card/cash). All schedules can be found at dining.unc.edu/menu-hours.
Carolina Dining Delivery: CDS will deliver select meals from Chase during lunch and dinner hours to on campus residence halls around campus with the use of a meal swipe (no extra food charge to you). Order your meal via the GET app and just walk outside to pick up your meal during a specific window. Check out the GET app to see what's being served!
Takeout Central: Order from over 30 local restaurants with your Flex for delivery to any location on–campus or specific drop points (delivery fee will be charged). Checkout Takeout Central to see participating restaurants.  
GET App: Order your meal ahead of time and pick it up at our dining locations around campus. This is an excellent choice to take your meal to-go and not have to sit inside the dining halls.  
Are there healthy options available?
Yes – our registered dietitian makes sure the dining halls offer a variety of healthy and nutritious options to help you live a healthy life. Each dining hall has its own vegetarian station and full-sized salad bars. Check out our nutrition page and if you've got allergy or dietary concerns, contact us and our registered dietitian will answer your questions!
Can I treat my friend to a meal on my plan?
The Unlimited Meal plan is non-transferable and can only be used by the meal plan holder. However, all Unlimited meal plan holders have 10 guest meals to invite a friend or family member!
If you have a Block plan – YES! Feel free to bring a friend or family member and you can just let our cashier know that you would like to use one of your swipes on their meal.
---
Safety Protocols
What are you doing to help keep the dining halls clean?
This is already ingrained in our operational DNA. To ensure our standards continue to go above and beyond in the post COVID-19 environment, we have added to the recommendations of leading organizations like the Food and Drug Administration, National Restaurant Association, Occupational Safety and Health Administration, National Institutes of Health, Centers for Disease Control and the World Health Organization to include industry-specific procedures created by our operators. Not only will CDS abide by these safety recommendations, but our third-party vendors and food trucks will implement these changes as well. Some of the extra measures we are taking are: 
Employees will wash their hands and change gloves every 20 minutes. 
All service–ware at our stations will be changed every 30 minutes. 
Employees temperature will be checked upon arrival of every shift. 
All tables and chairs will be cleaned and sanitized in between guests. 
A deep clean will be conducted in all dining facilities every day.  
For a more detailed overview of what we are doing to keep our staff and guests safe, visit our Safety Procedures webpage.  
Am I required to wear a mask when I visit a dining location?
Yes! In accordance with University guidelines, facial coverings or face masks that cover your mouth and nose should be worn in all group and public settings on campus. Unless you are consuming food or beverage, a face mask must be worn at all times inside a dining location. 
Are CDS employees required to wear masks?
Yes! In accordance with University guidelines, all CDS employees will be wearing masks at all dining locations. 
I'm considered high risk, is it safe for me to eat in the dining hall/where can I eat on campus?
We encourage students at an increased risk to use any of our delivery and pickup options to avoid crowded areas. If delivery is not an option, check out our Get Well Soon Program, where you can send a roommate or friend to pick up your meals on your behalf. It is also advised to dine at Chase Dining Hall or any location on south campus during the day due to heavy volume on north campus during lunch hours. We also have a Registered Dietitian available for consult for anyone with dietary or risk concerns. 
Is it safe to use delivery or pickup options if I have a food allergy?
Because the GET app does not provide full ingredient listings or food allergens, students are encouraged to check the online menu to view this information prior to placing an order. The Simply Prepared menu will be offered on the app, therefore there will always be a meal option that omits gluten and 7 of the top 8 allergens. Students will also be able to specify their food allergy or special instructions for our team to handle their request.
If you are placing an order for an off-campus location, please contact the retailer directly for questions. You can speak directly with our registered dietitian to learn more about what options are best for you! Just fill out our contact form and mention you would like to speak with our registered dietitian. 
Should I avoid dining on campus if I am sick?
If you are sick or injured, do not come to the dining halls. Our Get Well Soon Program allows you to send a non-symptomatic buddy to pick up your meals on your behalf. Simply fill out our Get Well Soon form, then forward the confirmation email to your Buddy so they can show it to the cashiers as authorization to charge your student account. We are working with housing and other officials to finalize plans to accommodate students that may need to quarantine or isolate in on-campus residence. Details will be provided once they are finalized. 
---
Operational Changes
Are reusable green boxes still available for to-go at the dining halls?
Yes!  These to-go boxes are thoroughly cleaned and sanitized after each use to ensure the risk of germs and cross contamination are mitigated.
Can I still bring my reusable mug or container to dining locations?
No. To reduce the potential spread of germs, you will not be allowed to bring any reusable cups or containers to our dining facilities for the time being.  
How will the seating at on-campus dining locations be organized for Fall 2021?
We have reintroduced more seating into dining operations at the Beach Café and Lenoir Hall in compliance with the Governor's executive order on indoor dining and guidance from campus health and medical experts.
 For Fall 2021, we plan on a return to near normal seating capacity while maintaining outside seating areas and mobile food ordering and delivery. We will continue to follow the COVID-19 Community Standards, including the community standard on mask wearing.
---
Available Locations on Campus