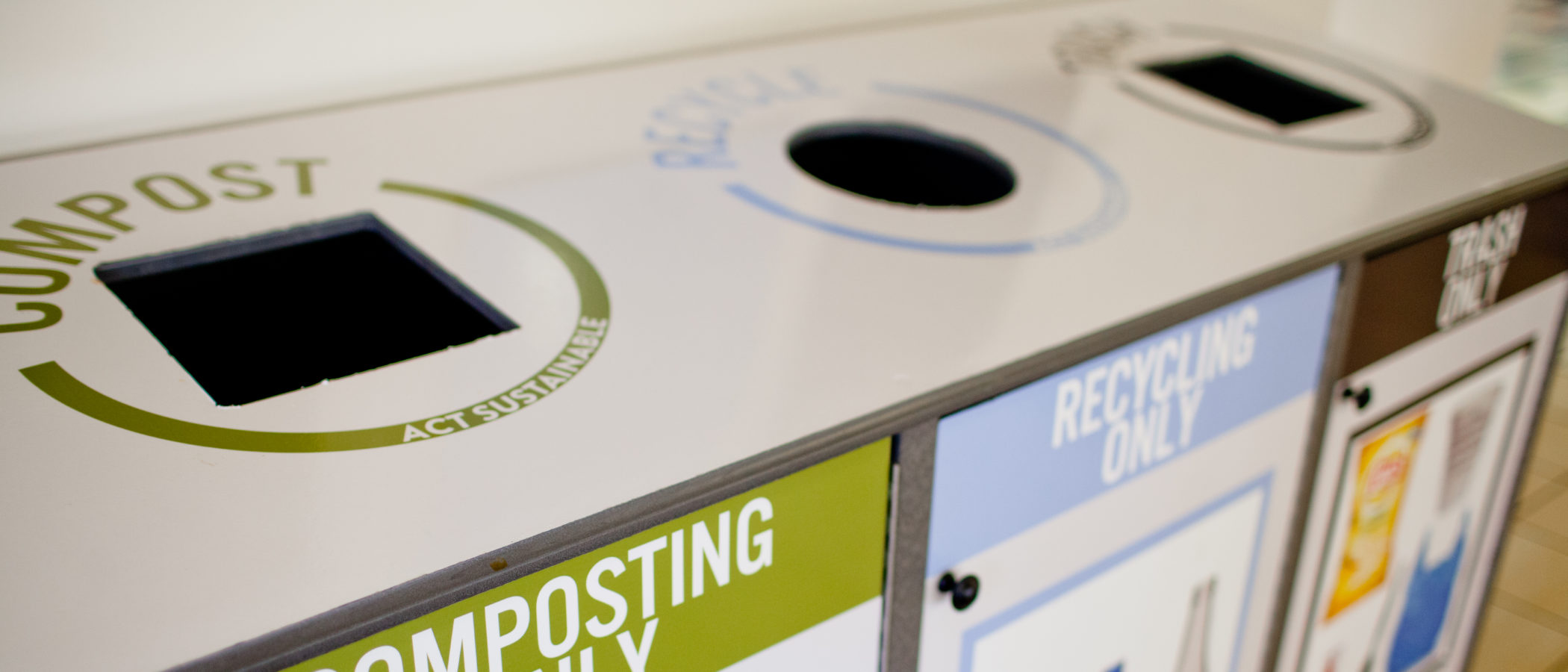 What You Can Do
Get Involved!
Read our Sustainability Report
Our sustainable operational initiatives can be broken down into the following pillars: Sustainable Food, Waste Reduction & Diversion, Water Conservation, Energy Efficiency, and Building Construction & Design. For a comprehensive breakdown of our most recent accomplishments, please review our Sustainability Report. 
Participate In Our Reusable Programs
To Go Containers
Take your food wherever you want to go with our reusable to-go container program, available for Top of Lenoir and Chase Dining Halls. Meal Plan holders are eligible to request a meal to-go and can check out a maximum of two containers at a time. Bring back the dirty containers and grab a new one. If a Meal Plan holder reaches the two container maximum, they must either bring back the checked-out containers or purchase a new container for $3.50. Swipe twice to eat a meal in the dining halls and take one to go for later! 
Don't have a Meal Plan? No problem! You can purchase a reusable to-go container for $3.50. If you already own a container, let our dining hall cashier know prior to purchasing a meal and make sure to request a new one each time you enter the dining hall. It is important that guests without a Meal Plan not return the container without requesting a new one as this will opt you out of the program and you will have to purchase another container to participate. 
Please be advised that any service ware used in the dining halls intended for refilling with food needs to be cleaned in a regulated food service operation. This is the national FDA Health and Safety standard; therefore, no outside service ware is permitted in the dining halls. Outside service ware includes but is not limited to personal plates, bowls, Tupperware®, clamshells, cups, bottles, etc. Thank you for considering your fellow guests. 
Reusable Bottle & Mug Program
CDS recognizes customers who bring a Carolina Dining Services reusable coffee mug or water bottle into select retail locations for beverage purchases. BPA free hot and cold beverage containers are available to purchase and CDS will provide discounted refills for all those that purchase and utilize the CDS reusable drink containers. Customers will receive $0.99 refills (tax not included) on fountain beverages and self-serve coffee at select retail locations for cups up to 16 ounces. This program will be available at the following retail locations: Lenoir Mainstreet, The Beach Café, Rams Market, Cafe McColl, Blue Ram, Café Converge, and Atrium Café. 
Additionally, Alpine Deli and Alpine Bagel offers 20% off fountain beverages and 10% off self-serve coffee with a CDS reusable drink container or any personal reusable container. 
Port City Java offers $0.25 discount for coffee refills with Port City Java or CDS cups (up to 16 ounces). 
There's more!
Interested in more tips on how to live a more sustainable lifestyle while dining with CDS? Check out the quick list below to do your part. 
Look for static sustainable food items present in our dining halls. Chase and Top of Lenoir feature sustainable food items, including grass fed burgers, local pork, local chicken, local milk, and cage-free eggs. 
Try out our Plant Forward station! Substituting just one serving of meat for a plant-based protein is a great way to reduce your carbon foodprint. The water needed to produce one quarter-pound burger is enough to fill 10 bathtubs- 425 gallons!  
Be mindful of what you put on your plate! While we do compost all post-consumer food waste in the dining halls, adjusting portion sizes according to your hunger level is another great way to minimize leftover food waste. Whether you'd like a smaller or larger serving, we encourage you to share that with our dining staff. Divert waste from the landfill; utilize composting and recycling receptacles whenever available. 
Visit the Farmers' Market that CDS hosts each semester and meet some of your local farmers. 
Reach out to CDS and share what you value! The success of most sustainable programs depends on your participation, and we always appreciate your input and suggestions. Please share your thoughts!