New Meal Swipe Perk: Food Trucks!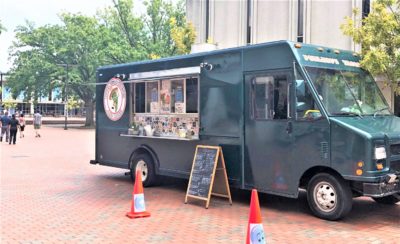 Hi Tar Heels!
We have exciting news to share with you! It is always a great day to be a Tar Heel and on September 20 it will be an even greater day!
Beginning September 20, you will be able to use a Meal Swipe at select food trucks on campus! Now you have even more options for on campus dining!
The details:
Unlimited Meal Plan and Block Meal Plan participants may use a maximum of 1 Meal Swipe during allocated meal periods at select food trucks on campus from pre-selected menus (no substitutions).
Meal Plan holders may still use a Plus Swipe or Meal Swipe at Top of Lenoir and Chase 15 minutes prior to or after the food truck meal plan purchase.
Check dining.unc.edu and follow CDS on social media to know which food trucks will be on campus and offering Meal Swipe options.
Meal Swipe options at food trucks are determined by individual food truck vendor and may not include a drink as part of the meal.  Any extra items may be paid for with credit cards, Flex or Carolina Convenience.
What food trucks are participating in Meal Swipes? Visit https://dining.unc.edu/menu-hours/  and look for "Now Accepting Meal Swipes" in our Food Truck section!
Love CDS and marketing? We are hiring Marketing Interns and feature flexible hours to meet your schedule!  $12/Hour + Free Meal with every shift! Apply here! 
As always, we are here to keep you well-fed and happy!
Your Friends at CDS