Ask the RD: National Nutrition Month
Every month, our Registered Dietitian, Kelli Wood, answers a frequently asked nutrition question. Here's March's Ask the RD!
"What is this year's theme for National Nutrition Month®?"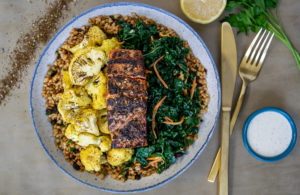 Happy National Nutrition Month®! This year's theme is Personalize Your Plate. From our dietary needs to the foods we enjoy, everybody is different. This is also true when it comes to nutrition and health.
A healthy diet consists of a variety of vegetables, lean protein, whole grains, and fruit. Some people may have food allergies or medical needs that limit what they're able to tolerate in those food groups. By learning cooking skills and experimenting in the kitchen, you can find what works for you.
This year's theme doesn't just apply to what you are eating but reminds us of why mealtime is special to us. Sharing a meal with family and friends is a great way to bond. Coming together with loved ones over a meal strengthens relationships which is important for mental wellbeing. For advocates of the environment, food is also an opportunity to support local farmers or participate in sustainability initiatives that improve the health of the planet.