Ask the RD: Nut Allergies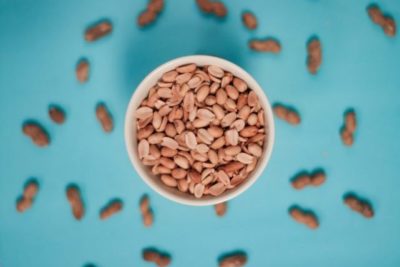 "I have a nut allergy. How can I make sure I stay safe while dining on campus?"
We do our best here at CDS to accommodate nut allergies, and I believe you will find that you have plenty of options while dining here. The Executive Chef and I work closely in designing the menu every semester and we make sure that all recipes omit tree nuts and peanuts, except for a few items that may contain coconut such as curries. We offer a no-nut salad bar, and our house-made pesto sauce also omits nuts. We inform our diners to take caution with our bakery items, which may or may not contain nuts. Occasionally throughout the semester, we will hold dessert pop-up events and we will have identifiers that clearly state the item's allergens.
At each station, we have LED digital screens that display what we are serving along with the nutritional information. More importantly, the top 8 allergens contained in each specific food (egg, milk, peanuts, tree nuts, soy, wheat, shellfish, and fish) are also flagged. The food allergens are stated on the digital screens as well as the online menu. I encourage you to view our website in advance to browse your options. By clicking "peanuts" and/or "tree nuts" on the allergen filter, you can view all menu items that are free of the allergen(s). You can also view full ingredient listings by clicking on the item to ensure you are eating food that is safe. At both dining halls, we have implemented Stress-Less Corners which has a locker-style cabinet called the Stress-Less Cabinet. These cabinets contain individually wrapped nut-free and gluten-free products including breads, dessert, and snack items for students with gluten and nut allergies. Chase additionally offers a gluten- and nut-mindful toaster to warm up baked items offered at the SLC. At TOL, the Stress Less Corner is located near the Grille, and at Chase, it is near the Simply Prepared station. Our Simply Prepared station at Chase dining hall is dedicated to menus omitting the top 8 food allergens including nuts. These foods are also prepared at this station to reduce risk of cross-contact.
Regarding our retail locations, CholaNad serves two dishes, Chicken Tikka Masala, and Paneer Tikka Masala that contain cashews. Chick-fil-A uses peanut oil to fry their chicken; Mediterranean Deli has some dishes that contain pine-nuts and almonds; Italian Pizzeria uses pine nuts for their pesto sauce; Burrito Bowl offers one salad which uses pecans, and those are contained and optional to add on. Subway's cookies and muffins contain peanuts, and Bandito's and Sushinara completely omit nuts.
Every semester and the weeks throughout, the chefs, managers, and I address food allergies/ intolerances and the techniques of reducing cross- contact. We educate and train all our employees on proper food handling and cleaning procedures (using separate cutting boards for different food items, cleaning hands and surfaces often, always wearing gloves, using separate serving utensils and gloves for different food items, etc). I'm certified by Food Allergy Research and Education (FARE) to deliver food allergy trainings to our team at Carolina Dining Services and make sure to do so each semester. I encourage you to always keep the Epi-Pen on you and, whenever possible, dine with a buddy who is knowledgeable about its use. Unfortunately, we cannot guarantee there will be 100% avoidance of cross-contact occurrences, but we can guarantee appropriate education, training, and necessary corrective actions. Myself and the culinary team try our very best to accommodate a variety of dietary needs here at Carolina Dining Services. I offer nutrition counseling to all meal plan holders either by appointment or walk in. My office is located on the second floor of Chase Dining Hall, so feel free to stop in with questions or just to say hello!