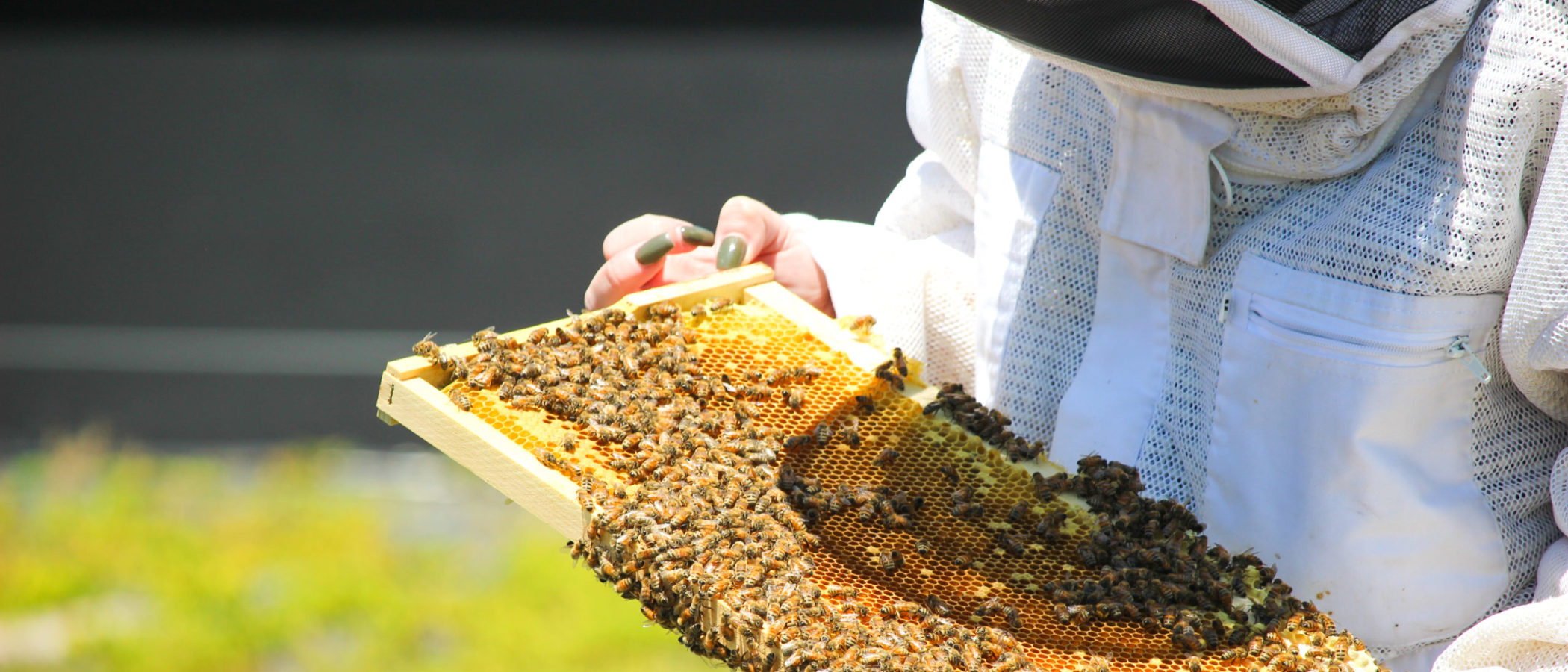 What We Do
Reducing our carbon heelprint
We understand the power and centrality of food in our daily lives and recognize that the foods we choose to serve have a direct impact on our health, culture, environment and local economies. CDS is committed to changing the culture of food by nourishing guests with menus that emphasize sustainable, fresh, whole foods that are raised, grown, harvested and produced locally whenever possible. We are also dedicated to constantly improving our sustainable practices, which is why we welcome constructive criticism of our methods and make it a top priority to partner with student-led environmental groups on shared initiatives. Learn more about our program by reading our most recent Sustainability Report located under the Sustainability tab on our main menu. 
Sustainable Food Purchasing
Purchase products from within a 250-mile radius of campus, giving preference to North Carolina vendors, whenever the quality and quantity fits CDS' needs and meets financial goals. Approximately 25% of our food purchasing from the 2021-2022 academic year was sourced from North Carolina farms and businesses! 
Regularly track sustainable food purchases (local, third-party certified, and sustainably harvested). 
Seek out third-party certified options, including organic, fair trade, Rainforest Alliance, humane, grass-fed, Animal Welfare Approved, and "Best Choice" as defined by Monterey Bay Seafood Watch. 
Participate in the Real Food Calculator in order to assess our sustainable purchasing.  
Our Plant Forward stations in Chase and Top of Lenoir boast tasty vegan recipes from different cuisines each day, and we offer a variety of vegetarian and vegan options daily in our dining halls and food courts. We also feature Meat "Less" Mondays at both dining halls by reducing meat options and increasing vegetarian and vegan offerings every Monday. 
Facilities
All plastic dinnerware in Lenoir Hall and Chase was replaced with BPI-certified compostable dinnerware made from PLA, a plant-based bioplastic made with 100% renewable resources.  
Menus are displayed on LCD flat screen televisions within our dining halls and select food courts, erasing the need for printed menus. 
Rams Head Plaza, home of Chase Dining Hall, collects over 56,000 gallons of water per year with its rainwater cisterns, which go right to the trees and lawns of the plaza. Green roofs like this assist in the reduction of air pollution, increased biodiversity, and absorb less heat, leading to decreased surface temperatures compared to concrete or other impermeable surfaces. 
We implement sustainable design into our new construction and renovations. All countertops installed are made from 25 percent recycled glass. The wood paneling on the counters is a composite material made from 23 percent post-consumer recycled wood, and use low VOC (volatile organic compounds) paints. 
15 new Energy Star-rated pieces of equipment for Lenoir Hall. 
In Fall 2011, Top of Lenoir, located in Lenoir Hall, was renovated with energy efficient LED (light emitting diode) lighting. LED lighting saves between 50 to 90 percent in energy costs compared to incandescent or compact fluorescent lighting. We also use CFL bulbs in Chase Hall, which are approximately four times more efficient than incandescent bulbs. 
Recyclable and compostable disposables in Lenoir Mainstreet, Top of Lenoir, Chase Dining Hall, and Cafe McColl. 
Trayless dining program reducing water consumption by 144,000 gallons per year. 
Reusable mug and water bottle program discounted refills on each hot beverage and fountain beverage purchased in retail operations, including Lenoir Mainstreet, McColl Café, The Beach Café, Ram's Market, Café Converge, and The Atrium. 
Reusable to-go containers in Top of Lenoir and Chase Dining Halls, resulting in the diversion of nearly 76,000 disposable containers each semester.
Waste Diversion
Employ a Food Waste Management System to identify and eliminate wasteful procedures. 
Track food production to better forecast future purchasing. 
Digital menu and announcement boards are located in the dining halls and select food courts in lieu of printed menus and paper signage. 
Purchase bulk dispensers to reduce packaging, e.g. beverages, condiments, cereals. 
Offer $0.99 refills for all customers who bring a reusable CDS mug or bottle 16 ounces or less to Lenoir Mainstreet, Beach Café, Café Converge, The Atrium, McColl Cafe, Rams Market for fountain beverage and self-serve coffee purchases. 
Provide reusable to-go containers in both dining halls that have eliminated the use of approximately 76,000 disposable containers every semester. 
Offer metal, glass, and plastic recycling bins in all dining locations, and paper recycling bins in offices. 
Recycle cardboard boxes received from food deliveries at all locations. 
Filter fryer oil at all dining locations for extended life and recycled into biodiesel. 
Offer fully compostable napkins and straws in both dining halls. 
Use recyclable and/or compostable packaging at Mediterranean Deli, IP3, Burrito Bowl, Sushinara, and Lenoir Mainstreet salad/soup bars. 
Carry out pre-consumer composting at both dining halls, Beach Café, and the Friday Center. 
We compost post-consumer food waste in Chase Hall and Top of Lenoir. 
Front-of-house-composting bins available at Beach Café, Chase Hall, Student Union, and Lenoir Mainstreet, the campus' largest retail location. 
Community Involvement
Meet weekly with the Student Dining Board to discuss new and innovative sustainable dining initiatives.  
Partner with the UNC Office of Waste Reduction and Recycling to seek out cross-promotional opportunities for waste-related initiatives, obtain and exchange waste diversion statistics, and organize recycling and composting pick-ups. 
Participate in the Association for the Advancement of Sustainability in Higher Education's (AASHE) Sustainability Tracking Assessment and Rating System (STARS). 
Partner with Sustainable Carolina to gain insight into the most valued campus sustainability initiatives and to provide the office with the food and beverage purchasing data needed for AASHE STARS.
Collaborate with student interns to participate in the Real Food Challenge, in which we have committed to maintaining over 20% "Real Food" purchases that meet strict third-party standards qualifying as local, fair, ecologically sound, and/or humane since 2010. 
Offer biweekly educational and awareness tabling and information sessions designed to engage students and promote current sustainable food efforts, highlight environmentally related holidays and gather support for current CDS initiatives. 
Regularly co-host events in collaboration with sustainability focused student organizations, such as our cooking demos with Edible Campus. 
Provide weekly donations of approximately 150 pounds of food to the nearby Inter-Faith Council during the academic year. 
Host campus Farmers Markets each semester, providing customers an opportunity to engage directly with local farmers. 
Work with UNC students annually on Capstone projects, the latest of which concentrated on local food sourcing. 
CDS staff members join together and participate in annual community service events.