What's New at CDS!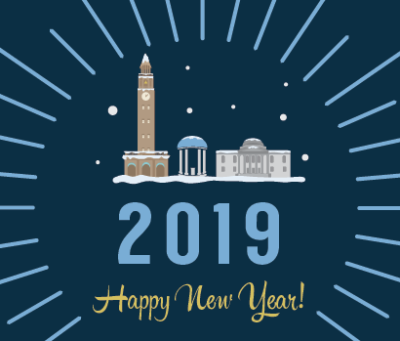 Welcome back, Tar Heels! We've had a great fall semester and we hope you have too! We wanted to ring in the new year by looking back on what we've accomplished, as well as keep you in the loop about what to expect for the new year.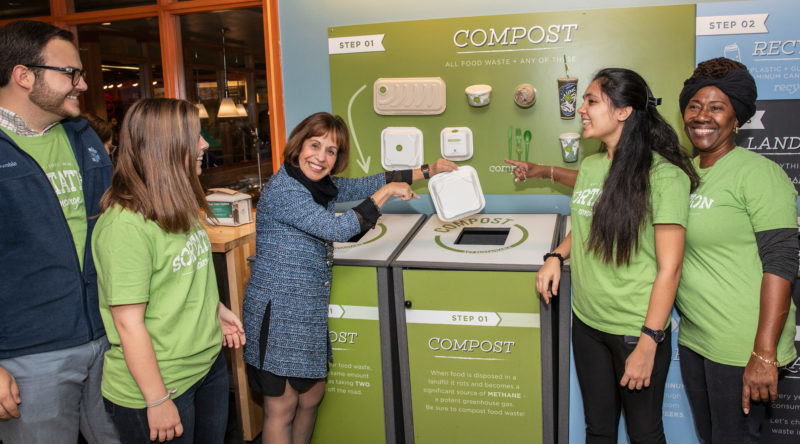 A Semester in Review
Real Food Challenge
In April 2016, Chancellor Folt signed the Real Food Campus Commitment, committing Carolina Dining Services (CDS) to achieving at least 20% qualifying purchases at Chase and Top of Lenoir dining halls based on the Real Food Matrix by the year 2020. Each semester, a group of Real Food student interns review the food purchases at Top of Lenoir and Chase dining halls to determine the percentage of purchases that meet the criteria of the Real Food Campus Commitment. During the fall semester, the interns verified that our Real Food percentage was greater than 20% for the month of February 2018. This represents the eleventh consecutive measurement period the interns have verified our Real Food qualifying purchases in Chase and Top of Lenoir exceeded 20% for the period they reviewed. Furthermore, we have achieved greater than 20% Real Food qualifying purchases at Chase and Top of Lenoir on an annual basis in 2016-17 and 2017-18 and are on track to achieve greater than 20% Real Food qualifying purchases again in 2018-19. Real Food is only one part of our sustainability efforts at CDS. We partner with campus departments such as UNC Sustainability and the Office of Waste Reduction & Recycling to promote the #UNCThreeZeros campaign throughout the year through events and educational outreach.
4th Annual Ramsgiving
Our 4th annual Ramsgiving at Chase has become a not-to-be-missed event. Tar Heels relaxed to a live UNC band, Dissimilar South, ate local Thanksgiving fare, signed up to volunteer with local non-profits, and helped us make 1,000 brown bag lunches to be distributed to those in need in Durham and Orange counties by our partner, Brown Bag Ministry! In the spirit of giving, we also collected canned goods and supplies for those affected by Hurricane Florence and Michael. We had nearly 300 more attendees compared to 2017, coming in at a whopping 2,300 for a 3-hour event.
NACUFS Survey
National Association of College and University Food Services (NACUFS) customer satisfaction results are underway! CDS collected 3,800 surveys in November from Carolina students, faculty, and administrators. We are anxiously awaiting the results in February to see how the UNC community rates our dining services – including ratings on food, value, cleanliness, and sustainability.
New & Local
This fall, we strengthened our partnerships with local restaurants by welcoming two NC based restaurants to provide exciting options to our campus! Merritt's Grill at bottom of Lenoir (aka, Sourdough.Bacon.Bacon.Bacon.Lettuce.Tomato) was one of the most anticipated openings from both current and former students. Alumni even shared on social media that this opening is a good excuse to come back to Carolina for a second degree! In mid-September, Port City Java (PCJ), a Wilmington, NC born coffee shop, found a new home at Chase Dining Hall. They offer locally roasted coffee beans and brews (the Iced Chai is a student fave!) plus a delicious selection of sandwiches and pastries. PCJ offers a relaxing place for the Carolina community to study, hang out with friends, or play board games on the south side of campus.
#EatSortWinUNC
In partnership with the Three Zeros Environmental Initiative, CDS created a campaign on how to make UNC, and the Earth, more green! Over the course of 8 weeks, we taught over 100,000 people on how to compost and recycle properly, with the chance for participants to win UNC basketball tickets to Duke, Gonzaga, and NC State. Check out the contest & winners here!
Dining Hall Menus Focus on Customization
Create Your Own Pasta Bar
The new CREATE station at Chase Dining Hall offers customers an opportunity to truly 'create' their own custom dishes! Every week offers a selection of nearly 20 interesting ingredients where student can 'pick and choose' to make a truly personalized option for lunch and dinner. Cilantro Marinated Chicken and Italian sausage over Gemelli pasta with spinach and artichokes, anyone?
Poke Bowls
Top of Lenoir also upped their food game and added one of the biggest recent food trends to their mix of options – a Poke Bowl! Every Thursday the Burrito station at Lenoir offers students this unique Hawaiian cuisine that includes rice, raw fish, veggies and various sauces. (Veggie/Vegan options always available as well since this station is 100% customizable!
Allergen-friendly Stress-Less Pantry
Seeking to find safe options for our students with concerns about food allergens, CDS created the Stress-less Pantry! This special pantry housed in Chase Dining Hall offers a variety of allergy-conscious food items with a heavy emphasis placed on those free of wheat, gluten, peanuts, and tree nuts. Kelli Wood, RD, will work with students who want to access this special pantry of food to ensure that the right mix of products are fully stocked and available. Students can contact Kelli at kellwo@email.unc.edu to learn how to gain access.
In the News
Peta Vegan Award
We pride ourselves on our commitment to not only serving our students exceptional food and service, but our commitment to sustainability and wellness. That's why we are excited to announce we won an A+ Vegan rating on peta2's Vegan Report Card this year!
Food Management Magazine
Is vegan BBQ possible? At Carolina, it is! Food Management Magazine featured our homegrown food concept, 1.5.0., highlighting their unique vegan twist on BBQ. To read more about what they have cooking up, visit Food Management Magazine.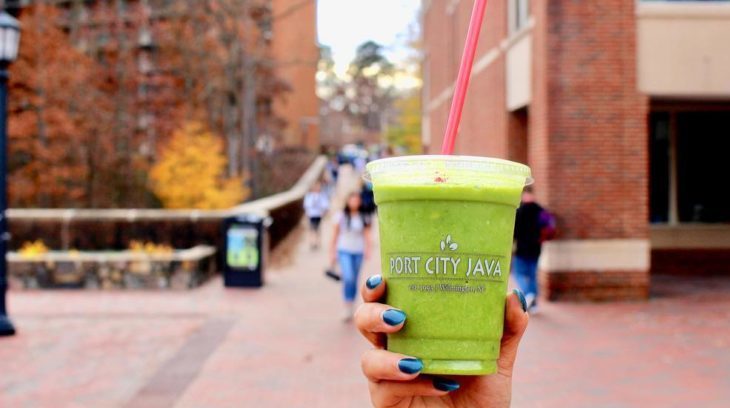 Spring Menu Highlights
New & Notable 
With a continues emphasis on offering a varied selection of food options on campus, we are starting the new semester off with a few new and old faces! We've look extensively at student feedback, culinary trends, fall monotony breaker popularity and Student Dining Board approval to make some exciting new changes:
HealthyBowl Returns as BurritoBowl and Freshens
This January, HealthyBowl and Freshens will be back and bigger than ever, replacing Lenoir's Subway. HealthyBowl, rebranded as BurritoBowl, will serve the same classic globally inspired rice bowls and salads everyone loves, in addition to nachos, quesadillas and more! Freshens has also revamped their classic smoothie recipes, offering new vegan and gluten free options that are 100% clean! Don't fret smoothie lovers, because both locations will offer PLUS Swipe options to meal plan holders.
Bottom of Lenoir gets South Indian Concept
Franklin Street favorite, CholaNad, will be coming to Lenoir this spring! Replacing Sitar, CholaNad will serve authentic South Indian staples in addition to a rotating menu of daily specials. PLUS Swipes will be available for meal plan holders!
Coffee.Coffee.Coffee.
CDS is stepping up our local coffee game. Starting mid-January, Saladelia will be opening it's second location at FedEx Global Center, replacing EspressOasis. The Beach Café will also be welcoming a new local coffee option, Mad Hatter Café, which will be replacing EspressOasis in May 2019. Mad Hatter will feature coffee, sandwiches, crepes, and specialty pastries!
Chase Renovation
Get ready for some major updates at Chase! Renovations are set to break ground this month with an estimated finish in August 2019. Follow us on social media for updates on what's coming, as well as a play by play as construction gets underway!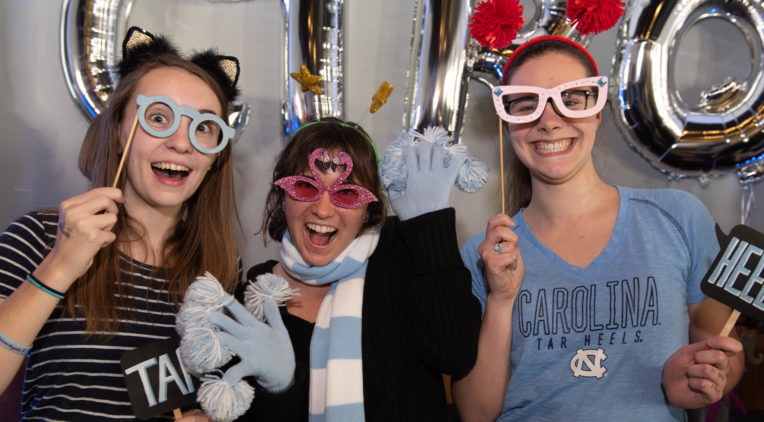 Spring Events
Feb 14th  |  Valentine's Day  |  TOL Dinner
We love our Tar Heels all year round, but on Valentine's we make it extra special! We host a fancy meal and giveaway bears, cakes and candy.
Feb 19  |  Black History Month  |  Chase Dinner
We partner with UNC's Black Student Movement to host a specially themed meal celebrating Black history, culture and accomplishments.
April 04  |  Spring Blow Out Event  |  TOL Dinner
Our big event for the spring, we'll start brainstorming in January to choose an out-of-this-world theme to delight students.
April 22  |  CDS Summer Kickoff  |  The Pit
When the weather gets warmer, we go full summer kickoff! We're throwing a free shindig in the Pit where all of campus can bask in the sun and join in.
May 01  |  Late Night @ Lenoir  |  TOL Dinner
We stay open late to help our Tar Heels achieve academic excellence with a fun study break!