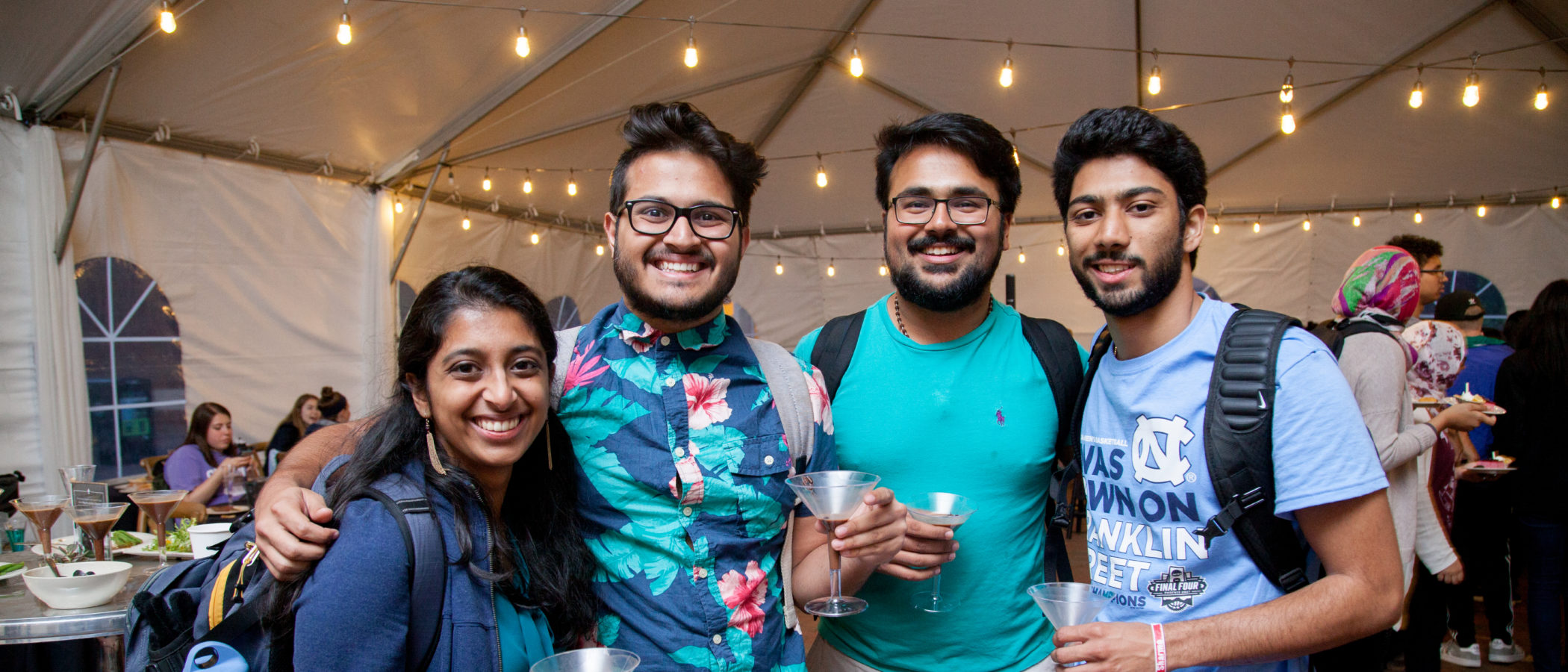 Are summer Meal Plans available?
We do not offer Meal Plans during the summer due to our dining halls not being open consistently. We encourage you to add Carolina Convenience online or at the UNC One Card Office.
When does my Meal Plan start?
The fall portion of your Meal Plan begins at dinner on Friday, August 16, 2019.
I just bought my Meal Plan but haven't payed the bill yet. Can I still use it when my Meal Plan starts?
Yes! It takes roughly 3 days for the cashier's office to process the transaction, but as soon as you purchase a Meal Plan, you can start swiping away!
Can I carry over my unused meals to the next semester?
Nope, sorry. All meal swipes (including guest meals and PLUS swipes) expire at the end of the semester. You need to use them by Saturday, December 14th, 2019! Your Dining Flex, however, does roll over from semester to semester as long as you are enrolled at UNC for the next semester.
Can I change my Meal Plan for the fall semester?
Yep! You can change the fall portion of your Meal Plan until September 03, 2019 – just go online or to the UNC One Card Office. When you change your Meal Plan, your original Meal Plan is refunded to you on a pro-rated basis (Block Plans are refunded per swipe, the Unlimited Plan on a daily basis). The Meal Plan you choose to change to is billed in full.
Confused about Meal Plan changes? Call us at 1.800.UNC.MEAL, we'll walk you through it!
Can I treat my friend to a meal on my plan?
Aw, what a good friend! The answer is, that all depends on your Meal Plan. If you've got the Unlimited, you have ten guest meals for the dining halls (Top of Lenoir & Chase) that you can share with a friend. If you've got a Block, you can treat your friends to as many meals as you like, as long as you've got meals left!
No matter what plan you have, if you've got Dining Flex, you can treat your friend at any of our on-campus retail locations and dining halls!
What do I do if my Dining Flex runs low?
It's easy – reload online! You can also contact the UNC One Card Office directly (919.962.8024 | onecard@unc.edu) if you have any problems loading more Dining Flex onto your account.
When do I sign up for a fall Meal Plan?
Good news – you can already sign up today! Our residential meal plans are annual contracts, so you will automatically be billed for the fall portion of your Meal Plan. If you'd like to switch to a different Meal Plan for the spring, you can do that from October 21, 2019 to January 14, 2020 online or by visiting the UNC One Card Office.
Want to buy an off-campus Meal Plan? Those are semester contracts – that means you will need to sign up for a new Meal Plan if you'd like one. You can purchase an off-campus Meal Plan for fall beginning, August 1, 2019 through October 21, 2019. Sign up online or visit the UNC One Card Office in person.
How can I track how many meals I use?
You can track your Meal Plan securely online by clicking "Manage My Account" and logging in using your ONYEN and password. If you have an Unlimited Meal Plan, contact the UNC One Card Office and request a usage report.
For PLUS swipes, an email with your current balance will be sent out every Monday. Remember, PLUS swipes are a part of your total swipes!
When can I eat on campus?
Whenever you want! Our dining halls, food courts, convenience stores and online delivery have a variety of schedules to make sure you've got the opportunity to eat on campus around the clock.
Your Fall 2019 Meal Plan begins with dinner on Friday, August 16, 2019 and ends after breakfast on Wednesday, May 6, 2020. We run on special hours during university holidays – check dining.unc.edu for updates!
Are there healthy options available?
Yes – our registered dietitian makes sure the dining halls offer a variety of healthy and nutritious options to help you live a healthy life. Each dining hall has its own vegetarian station and full-sized salad bars. If you've got allergy or dietary concerns, contact us and our registered dietitian will answer your questions!
How much does it cost to eat at Top of Lenoir or Chase Dining Hall without a Meal Plan?
Along with Meal Swipes, our all-you-care-to-eat dining halls accept Dining Flex, Carolina Convenience, Credit/Debit (MasterCard/Visa), and Cash. If you are paying with any of the listed options above, you'll be charged the door rate upon entry. See below for our door rates, which will be effective as of Wednesday, May 8, 2019:
Continental & Breakfast $8.75 + tax
Brunch, Lunch  $12.50 + tax
 Mid-Day $10.00 + tax
Dinner $13.00 + tax
Late Dinner $10.00 + tax
Late Night $10.00 + tax
---